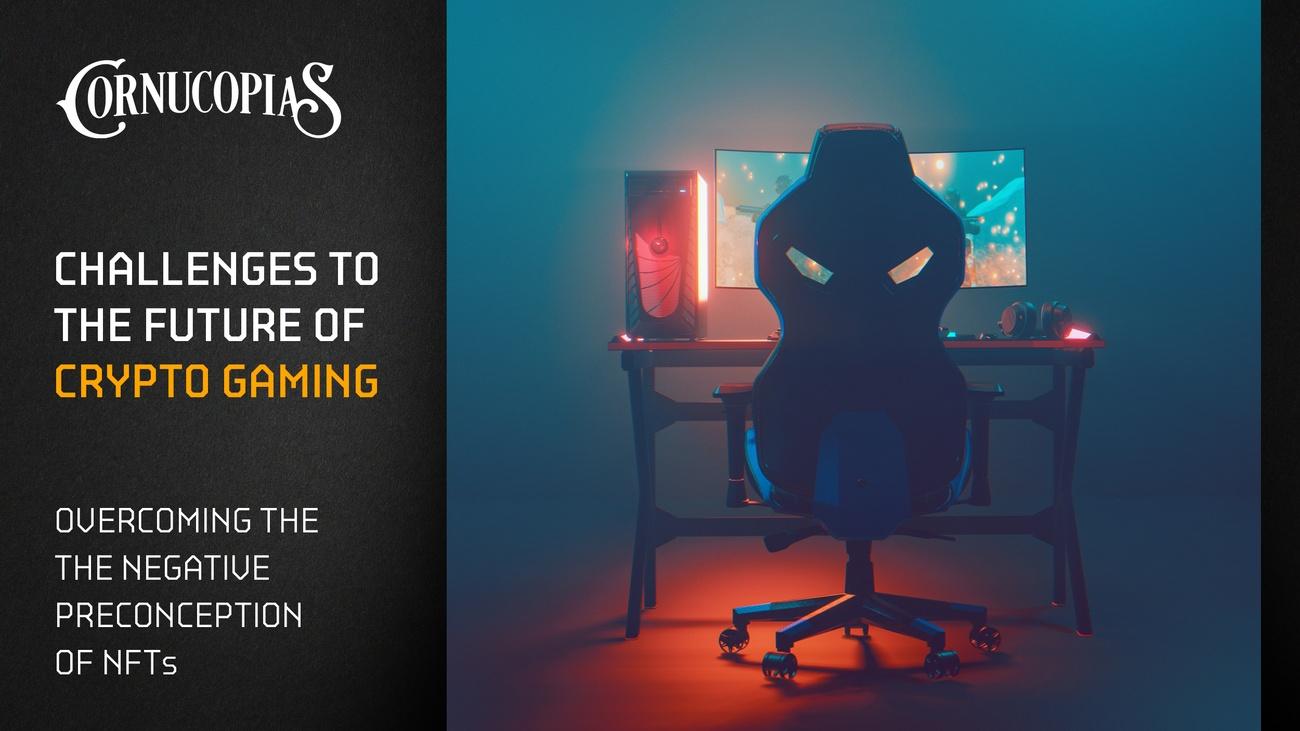 Challenges to the Future of Crypto Gaming: overcoming the negative preconception of NFTs.
The future of gaming will leverage cryptocurrency and more specifically, NFTs as a game dynamic that truly benefits the players.
Unfortunately, the traditional gaming community has so far recoiled at the mere mention of NFTs. In fact, fiery fan backlash has led to multiple gaming studios distancing themselves from NFT projects, and in some cases, canceling them altogether. One such example is Playtonic, a UK-based video game developer behind popular titles such as Yooka Laylee & Demon Turf. In February 2022, Playtronic put out a statement denouncing NFTs on their official Twitter account:
"To our community,
We have no interest in utilizing NFTs in any aspect of our business now or in [sic] future. Nor do we endorse the use of NFTs in the wider world."
— Playtonic (@PlaytonicGames) February 1, 2022
No matter how you slice it, that's a stern rebuke of NFTs. And perhaps with good reason.
The pushback really boils down to distrust of the gaming companies' intent. Done improperly, NFT's can squeeze ongoing payments from customers who have already purchased the game. But when properly deployed, NFT's can enhance the game's user experience and increase the game's value through real-life financial benefit. Again, the differentiation is the gaming company's intent
Yet in all of this, it is easy to forget just how early Cornucopians are to this emerging movement. The truth is that many sectors of society will soon come to integrate NFT technology despite any initial resistance. The overlap between blockchain and gaming is a natural entry point for NFT adoption within one of the most profitable and popular markets on Earth.
However, it is clear that this will come with tremendous challenges.
---
NFT adoption is only for the bold.
Platonic is far from the only company in the video game industry that has openly distanced itself from NFTs. During an earnings call in 2021, Electronic Arts CEO, Andrew Wilson, called NFTs the "future of the gaming industry." Then, when recently asked about NFT integration, Wilson seemingly reversed course on his previously bullish attitude:"I believe that collectability will continue to be an important part of our industry and the games and experiences that we offer our players. Whether that's as part of the NFT blockchain, well, that remains to be seen. And I think the way we think about it is we want to deliver the best possible player experience we can. And so we're going to evaluate that over time, but right now, it's not something that we're driving hard on," said Wilson during an earnings call in February 2022.Additionally, Team17, the developer and publisher of many popular indie games, recently announced the end of its MetaWorms NFT project on Twitter due to heated fan backlash:
"We have listened to our teamsters, development partners, and our games' communities, and the concerns they've expressed, and have therefore taken the decision to step back from the NFT space."
Team17 is today announcing an end to the MetaWorms NFT project.

We have listened to our Teamsters, development partners, and our games' communities, and the concerns they've expressed, and have therefore taken the decision to step back from the NFT space.

— Team17 (@Team17) February 1, 2022
Even Cornucopias' internal lead technical artist, who will remain anonymous, has expressed how deep-rooted negative attitudes toward NFTs are within the traditional gaming community:
"If I posted on my social media that I had made an NFT collection, I could lose half my following overnight. I've literally seen a friend of mine make an NFT and lose thousands of followers within half an hour. It's social media suicide for [game] artists at the moment," they said in a statement to COPIWatch.
Despite this, projects like Cornucopias are beginning to illustrate the utility of NFTs as viable gaming assets. As folks come to realize there is more to this new technology than just .jpeg art, the attitudes of gamers toward NFTs will surely soften. Indeed, it is already obvious that NFTs in gaming represent the fusion of two incredibly profitable markets.
According to the 2021 NFT Market Report issued by blockchain analysis firm, Chainalysis, in "2021, users sent at least $44.2 billion worth of cryptocurrency to ERC-721 and ERC-1155 contracts, the two types of Ethereum smart contracts associated with NFT marketplaces and collections." This figure does not account for NFTs minted on blockchains besides Ethereum.
The total volume of NFT sales across all blockchains is likely much higher, which indicates that support for NFTs is widespread in the cryptocurrency industry. It is only a matter of time before this bullishness colors the perception of NFTs in video game culture.
By 2027, the gaming industry will generate more than$293 billion in revenue.
According to Yahoo Finance, in 2020, the global gaming industry generated $155 billion in revenue. Market analysts predict that by 2027, the gaming industry will generate more than $293 billion in revenue.
How much of that figure will NFT gamers account for?
Cornucopias Game Studio, along with our community of fearless, forward-focused early adopters, recognize the value proposition that NFTs represent. Through a rich metaverse experience and well-thought-out utility for Cornucopias' NFTs, this community is helping the public overcome the negative stereotypes associated with this emergent phenomenon. This will naturally lead to an extremely lucrative evolution of gaming tech, which will benefit everyone involved.
---
When other game studios retreat, Cornucopias charges forward.
Cornucopias Game Studio is not afraid to clearly identify as an NFT-focused pioneer in blockchain gaming. Indeed, NFTs are central to the Cornucopias metaverse. This is why the Bubblejett Sprinter, GTI Javelin, and recently minted Bubblejett OG Custom, have all been designed to provide as much value as possible. Whether you plan on flipping them on the secondary market or HODLing them for the long haul, Cornucopias' gaming assets will withstand and overcome the negative preconceptions toward NFTs.
NFTs have the potential to make the gaming experience more immersive and rewarding, as players possess true ownership of their digital assets. Traditional gaming assets can not be sold on a secondary marketplace or transferred outside of their home game. However, e-commerce is hardcoded into NFTs. As a play-to-earn and build-to-earn metaverse, Cornucopias' will empower players to create a new economy by building and developing their in-game NFT assets.
The belief that NFTs will forever change and enhance the gaming experience is central to Cornucopias' corporate ethos. This is why the company spent months designing, testing, and carefully curating NFTs according to the community's feedback and desires before launching the first edition Bubblejett Sprinter.
Use cases for the Bubblejett Sprinter, GTI Javelin, and Bubblejett OG Custom.
As the gaming world incorporates NFTs, it is encouraging to know that Cornucopians are well ahead of the traditional gaming industry. The development of an engaging and interactive metaverse game all stems from Cornucopias' community. It is still very early in this project's lifecycle. Cornucopians who are involved now serve as the pacesetters for the regular gamers who will likely be making their first foray into the world of blockchain gaming via projects like this one.
Through the channels of traditional gaming and online entertainment, NFTs are tapping into the curiosity of the public. This represents a golden opportunity to help escort newcomers into the world of blockchain. NFTs are making it easier for people who are completely new to this space to access, understand and witness the power of decentralization.
It may very well be that widespread crypto adoption is achieved in part through the efforts of forward-thinking projects, like Cornucopias' community.
In order to overcome the negative preconceptions of NFTs, early crypto adopters must strive to bridge the gap between the traditional video game industry and this new generation of NFT-savvy gamers.
---
Final Note
There are many things that unite traditional gamers and the new generation of NFT early adopters. The need for self-expression, the appreciation of artful immersion, and our desire for and love of play are far stronger than any negative preconceptions about NFTs.
The battle to overcome these attitudes is far from won. As such, Cornucopians are helping this nascent industry make a positive impression on the traditional gaming community every day.
This is illustrated in the detailed rundown of the use-cases for the Bubblejett Sprinter/OG Custom, and the GTI Javelin recently published by COPIWatch. Together, by spreading new paradigms about NFTs, like Cornucopias' NFTs, Cornucopians and the Cornucopias Game Studio are creating the future of crypto gaming.
The COPIWatch team hopes that you found this article insightful, and encouraging.
Thanks for reading…