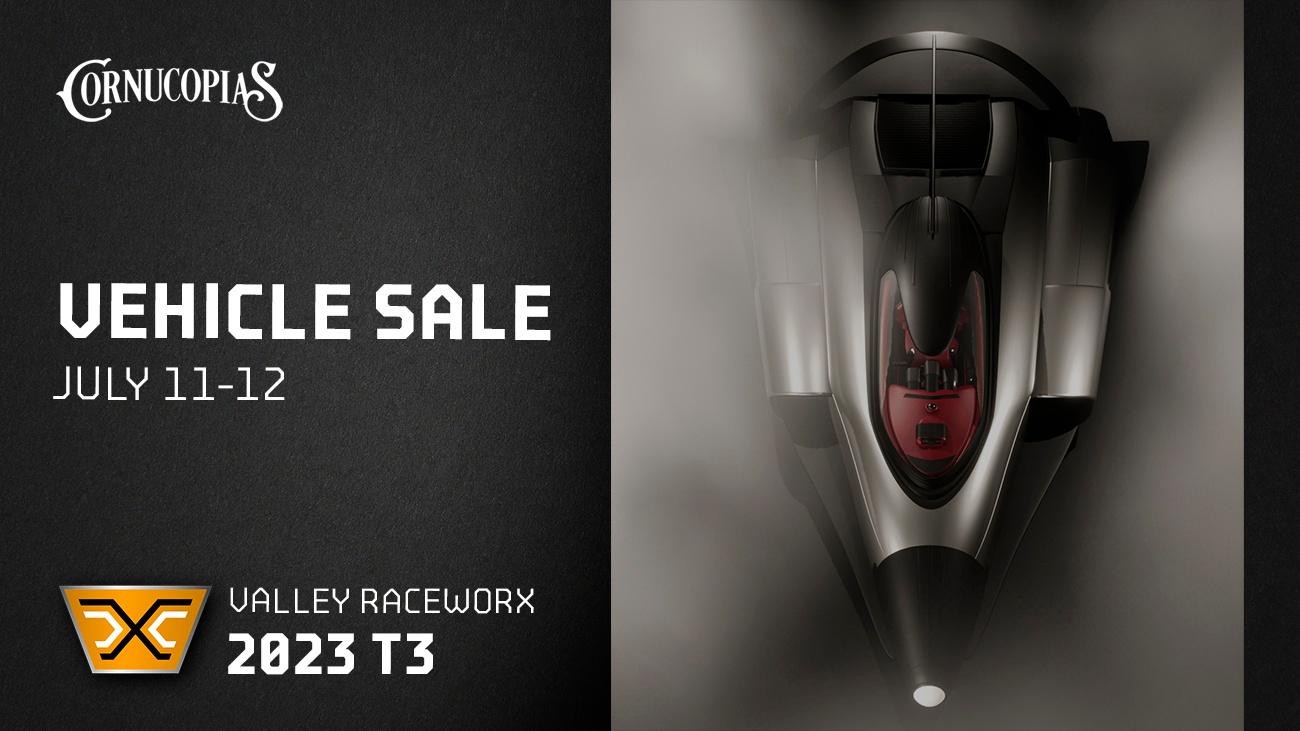 Valley Raceworx T3 Game Asset Sale
Get Ready for the Upcoming Game Asset Sale on July 11-12
Cornucopias Game is launching very soon with special access to Calido Valley and Calido Valley Raceway. The vehicle being sold is the 2023 Valley Raceworx T3. This vehicle will be our fastest vehicle yet and fills a slot in our A-Class lineup.
What are Cornucopias Game Assets?
In Cornucopias, if you can buy something, you can sell it. The same goes for vehicles. On our marketplace, if you purchase a game asset, you obtain ownership of the asset. Once minted (more help on this below), they will arrive in your secure wallet used to make the purchase. These assets can then be used in the game or sold on a 3rd party marketplace. Please note that owning assets is not required to play or enjoy the game.
Key Benefits of Cornucopias (NFT) Game Assets
True Ownership: Game assets (NFTs) give players genuine ownership of in-game assets, allowing them to be traded independently of the game.
Secure and Verifiable Records: Game assets store important game data, such as racing times and vehicle upgrades, on the blockchain. This ensures transparency and security of a player's achievements.
Exclusivity: Game assets allow players to own unique, rare, or limited-edition assets, enhancing their gaming status and experience.
The Vehicle Manufacturer
Valley Raceworx paves the way for a future beyond imagination. From the fearless mavericks behind the wheel to the ingenious engineers, and technicians behind the scenes. VRX tells a story of power and perfection.
Founded in 1988 by legendary racer Jules Canon. Today VRX is renowned as a global high-performance brand with a rich heritage and a devoted fan base. They continue to produce some of the most desirable and iconic sports vehicles in the world, combining cutting-edge technology, exquisite design, and exhilarating performance.
The Vehicle: Valley Raceworx T3 2023
Unleash the untamed power of the 2023 Valley Raceworx T3 - a precision-engineered racing marvel that dominates every curve and straight away. With its triple thruster setup, this machine propels you forward, igniting an adrenaline-fueled onslaught. State-of-the-art safety protection shields you from obstacles, while the sleek, aerodynamic design enhances agility for unmatched precision. The T3's extreme acceleration and breathtaking top speeds compensate for limited cargo space. Pushing the limits may affect fuel efficiency requiring strategic pit stops. The T3 is more than a vehicle; it's an unparalleled journey into the heart of racing supremacy. Experience the unrivaled power of the Valley Raceworx T3 - the embodiment of speed, control, and pure driving ecstasy.
Sale Details
| Details | |
| --- | --- |
| Currency | ADA (Cardano) |
| Price | $75 USD (ADA snapshot 24 hours prior to sale) |
| Total Supply | 7200 |
| Max Mint | 1 per tier (Max for the sale, per user is 3) |
| Royalty (3rd party marketplace) | 5% |
| Rarites | |
| Common | 45% |
| Uncommon | 27% |
| Rare | 18% |
| Legendary | 9% |
| Mythic | 1% |
Here is a breakdown of the sale tiers for the Valley Raceworx T3 sale on July 11-12. Tiers 1, 2 and 3 are directly related to activity within our Discord channel (Linktree). Tier 2 specifically allows access to those that have a vehicle NFT in the wallet they have verified. Tier 4 is our public access to the sale which does not require anything other than having and logged into your account on the marketplace and enough ADA in your wallet to purchase.
Sale Schedule
| | |
| --- | --- |
| Tier 1 | Corn Points Whale (option to purchase this tier has closed) - Opens on July 11th at 14:00 UTC and will stay open for 24 hours (ending at 14:00 UTC July 12th) |
| Break | 30 minutes |
| Tier 2 | Vehicle Holders - Opens July 12th at 14:30 UTC and remains open for 20 minutes |
| Break | 60 minutes |
| Tier 3 | Corn Points Connoisseur (must purchase to mint in this tier - 750 Corn Points) - Opens at 15:50 UTC and remains open for 20 minutes |
| Break | 30 minutes |
| Tier 4 | Public - Opens t 16:40 UTC and remains open for 20 minutes |
| Break | 30 minutes |
| Tier 5 | Battle for the Remaining Supply (IF any) - Opens at 17:30 UTC and remains open for 20 minutes |
We've decided to remove the one-asset-per-person limit for the sale. Those wishing to purchase more than one T3 will no longer need to wait until the last tier of the sale.
Here's how this will work:
The new quota for each user will be three NFTs. While the maximum mint per tier will remain at one, should you make a purchase during one tier, you'll still be able to make a purchase during the subsequent tiers (if you have the required role) until you've reached your maximum quota of three for the sale. We believe this change will reward community members who wish to purchase more than one NFT.
Tier Purchase Details
For those of you that have been claiming your daily corn points, you can still purchase roles for Tier 1 and Tier 3. Head over to #daily-corn-claim to purchase, type "/buy" and choose the tier you would like to purchase.
Purchase of Corn Points Whale Role (2750 Corn Points) - No longer available for purchase
Purchase of Corn Points Connoisseur (750 Corn Points) will close 48 hrs prior to Tier 1 sale
---
Helpful Links to Help Prepare for Sale